Health Care Providers
Health Care Organizations around the world are struggling with the
challenges of:
a)  Providing quality Health Care to an increasing number of
      patients, while
b)  Trying to control Health Care costs
Annual Health Care Costs:
-  Canada:  $290B
-  US:          $2.9T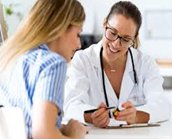 But even with good Health Care, a patient also needs to have good health behavior
- look after their own Health - in order to have good long-term health.
People are on their own, away from a Health Care Provider, 99.99% of the time.
But many people have poor health behavior:
a)  Do poor Self-Care (go for walks, take medication)
      -  Due to lack of self-motivation / self-discipline: poor attitude
      -  For example, poor medication adherence costs the U.S. $290B / year
b)  Poorly handle Mental Wellness episodes (anxiety; sadness)
      -  Due to poor reaction (behavior) to life events; inability to self-help
      -  Annual Mental health costs: US - $300B; Canada - $40B
c)  Lack of Health knowledge or inaccurate knowledge
      -  Inaccurate knowledge due to: fake news; commercial ads
      -  Leading to behavior that worsens one's health
Health Care Providers can provide vFriends to patients who have significant health issues and who have less-than-good health behavior (who do not look after their health well).
            Health Care Providers and Organizations:
Family doctors

Medical specialists

Psychologists

Medical clinics

Hospitals
                       Health Conditions:
 Diabetes

 High blood pressure

 Mental health

 Heart disease

 And others
Wellness Service Providers
These are organizations who provide assistance to people who have wellness / well-being issues and challenges, such as:
    -  Employee wellness providers
    -  Fitness coaches
    -  Home care organizations
    -  Personal assistants
    -  Weight management / Dieticians
    -  Athletic therapy
    -  Mental wellness / Psychological well-being
    -  Meditation / Relaxation
    -  Life coaches
Annual Employee Wellness Industry Revenue:
-  Canada:  $2B
-  US:          $20B
Wellness Services include:
-  Creating Wellness Plans
-  Providing one-on-one coaching
-  Consulting at any time – usually by text messaging
The goal of Wellness Service Providers is to assist the client to:
   1)  Help them toward their wellness goals
   2)  Mold them to have good daily wellness
        behavior

Annual Fitness Industry Revenue:
-  Canada:  $4.6B
-  US:          $36B
But most clients have difficulty with good wellness behavior. (If they had good wellness behavior, many would most likely would not need the services of a Provider.)  
Poor wellness behavior includes:
a)  Do poor Self-Care
      -  Due to lack of self-motivation / self-discipline
b)  Poorly handle mental wellness episodes, such as:
      being discouraged about lack of progress
      -  Due to poor ability to self-help; to overcome
c)  Lack of Wellness knowledge or incorrect
     knowledge
      -  Leading to behavior that does not improve
         wellness
Wellness Service Providers can provide the vFriends to clients who want enhanced "wellness behavior" assistance.
Get in touch today
If you or your organization would like more information on the vFriend:
We would be happy to answer your questions.
We can also provide a demonstration of its operation.
We could even enable you to "test drive" the vFriend, no obligation.
Contact Us